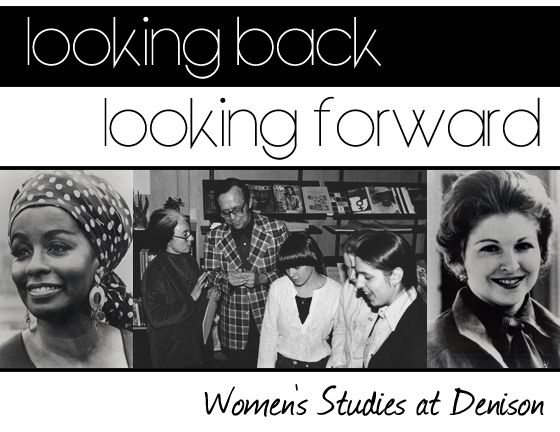 Welcome to Looking Back, Looking Forward, a project that documents the founding of the Women's Studies program at Denison University. This digital collection contains materials from both Women's Studies departmental files and from the University Archives. The development of a Women's Studies program illustrates social change within the academy during a dynamic period in American higher education. Funding for this digitization was provided by a grant to the Five Colleges of Ohio, from the Andrew W. Mellon Foundation. The consortium grant, "Next Steps in the Next Generation Library: Integrating Digital Collections into the Liberal Arts Curriculum," supported digitization of selected materials.
Submissions from 1989
Cheris Kramarae 1989 Visit, Suzanne Condray
Shirley Chisholm Flyer 1989, Cosby Bureau International, Inc.
1989 Visit of Director Ally Acker, Denison University
Janet Hyde Speech Information and Press Release, Denison University
Karen Thompson Press Release and Poster All College Convocation 1989, Denison University
Press Release Announcing Shirley Chisholm Convocation Speech 1989, Denison University
Ruth Hubbard All-College Convocation 1989, Denison University
Phyllis Trible Visit Information 1989, Goodspeed Lecture Series and Women's Studies
Laurel Horton Information 1989, Laurel Horton
Dagmar Celeste Communication 1990, Barry Keenan and Women's Studies
Women's Voices Letter 1989, Lisa Ransdell and Sandy Runzo
Letter Concerning 10th Anniversary of Women's Studies, Sam Thios
Women's Studies Newsletter May 1989, Women's Studies
Submissions from 1988
Gloria Hull Press Release, Denison University
Barbara Furin Sloat, Unknown
Bell Hooks, Unknown
Women's Film Festival Flyer 1988, Women's Resource Center and Black Student Union
Victoria Woodhull Celebration 1988, Women's Studies
Women's Programs Fall 1988, Women's Studies
Women's Studies Colloquium Flyer 1988, Women's Studies
Women's Studies Committee Members 1981-1988, Women's Studies
Women's Studies Newsletter May 1988 Nancy Nowik Memorial Issue, Women's Studies
Women's Studies Newsletter November 1988, Women's Studies
Special Combined Women's Studies and Black Studies Newsletter 1988, Women's Studies and Black Studies
Submissions from 1987
Computer Work Health Workshop, Denison University