Episteme is a student-run journal that aims to recognize and encourage excellence in undergraduate philosophy by providing examples of some of the best work currently being done in undergraduate philosophy programs. Episteme is distinguished as being the oldest undergraduate philosophy publication of its kind. Funded by a grant from the Andrew W. Mellon Foundation to the Five Colleges of Ohio (Next Steps in the Next Generation Library: Integrating Digital Collections into the Liberal Arts Curriculum, 2010).
The call for papers for 2018 is out! The 2018 staff includes:
Editor: Peter Heft
Editorial Board:
Cesar Barraza
Paul Bass
William Jones
DingXi Dennis Lu
Ryan Seibert
To submit papers for inclusion, please email the paper and a cover sheet to episteme@denison.edu.
Current Volume: Volume 28 (2017)
Articles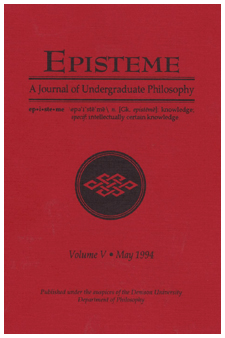 Faculty Advisor
Sam Cowling
Editor
Elizabeth VanNess
Web Editor
Peter Heft
Editorial Board
Will Jones
Addison Gus Evans
DingXi Dennis Lu
Ryan Seibert
Paul Bass
Cesar Barraza