Denison Journal of Religion has been published annually by the Department of Religion since its inception in 2001. The goal of the journal is to promote undergraduate research on religion. All articles are written by Denison students, who critically reflect on the issues of religion. Regardless of their academic disciplines, any Denison students can submit their appropriate research papers.
The content of the journal is academic discourse which promotes and encourages community dialogue, so that the journal can be a medium for intellectual engagement with religion for the entire Denison community and beyond. Topics of submission include but are not limited to the secular critique of religion, critical approaches to religion and secularism, interfaith dialogue, the interpretation of sacred texts, the interaction of religion and society, religious ethics, theology, and issues of social justice intersected with religion.
The paper copies of the journal have been available, thanks to the generous alumni donation. The online version of the Denison Journal of Religion is funded by a grant from the Andrew W. Mellon Foundation to the Five Colleges of Ohio (Next Steps in the Next Generation Library: Integrating Digital Collections into the Liberal Arts Curriculum, 2010).
See the Aims and Scope for a complete coverage of the journal.
Submission Guidelines
If you are interested in submitting your research paper (e.g. term papers, summer research, senior research, directed study) to the Denison Journal of Religion, please, contact the Religion Chair or any Religion faculty for inquiry.
A typical length of an essay is between 3000 words and 5000 words.
The journal uses the Chicago Style of Manual with footnotes and a bibliography at the end of the essay.
We only accept submissions via email. Email your essay to the Religion Chair and student editors as an attached Word document (no PDF). The essay should be saved as DJR_Last Name.
All submitted essays will be peer reviewed.
Current Volume: Volume 17 (2018)
Articles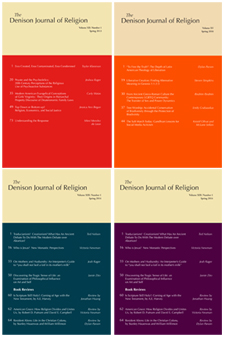 Faculty Editorial Board
John Cort
John Jackson
Maia Kotrosits
Martie Roberts
K. Christine Pae
David Woodyard
Student Editors
Seth Schoenhaus
Eva Rosenthal