Denison Journal of Religion is published annually by the Department of Religion. A goal of the journal is to have Denison students speaking to their Denison colleagues about issues of religion. All articles are written by Denison students, and we encourage students from any department to submit appropriate work to it.
The content is academic discourse which promotes and encourages community dialogue, so that the journal can be a medium for intellectual reflection on religion for the entire Denison community. Appropriate topics of submission include but are not limited to the secular critique of religion, inter-religious dialogue, the interpretation of sacred texts, the interaction of religion and society, the validation of ethical discernment, and issues of race, gender, and class.
Funded by a grant from the Andrew W. Mellon Foundation to the Five Colleges of Ohio (Next Steps in the Next Generation Library: Integrating Digital Collections into the Liberal Arts Curriculum, 2010).
See the Aims and Scope for a complete coverage of the journal.
Current Volume: Volume 17 (2018)
Articles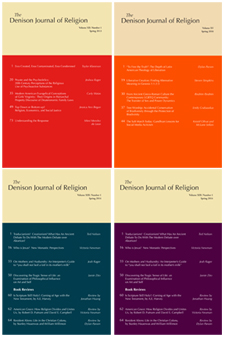 Faculty Editorial Board
John Cort
John Jackson
Maia Kotrosits
Martie Roberts
K. Christine Pae
David Woodyard
Student Editors
Seth Schoenhaus
Eva Rosenthal