Exile is a student literary journal that provides an opportunity for future poets, fiction, and non-fiction writers to publish their creative work in an undergraduate forum. For some students, Exile represents their only chance at publication, their only chance to have an audience. For others, Exile represents the beginning of their writing career. The title of this magazine was suggested by the concluding phrase in The Rest by Ezra Pound.
Funded by a grant from the Andrew W. Mellon Foundation to the Five Colleges of Ohio (Next Steps in the Next Generation Library: Integrating Digital Collections into the Liberal Arts Curriculum, 2010)
Acknowledgments: Joshua Finnell (Humanities Librarian); Peter Grandbois (Assistant Professor of English); Greggory Gassman (University of Alabama School of Library and Information Studies, Class of 2013); Meghan Callahan (Denison Class of 2014); Elizabeth Carman Bailey (Denison Class of 2012); Sarah Fiete (Denison Class of 2012); Ellen Rosebrough (Denison Class of 2013); Jonathan Halper (Denison Class of 2014); Deborah Gillum (Denison Class of 2014); Allison Scarlott (Denison Class of 2015).
Current Issue: Volume 68, Number 1 (2022)
Front Matter
Articles
Images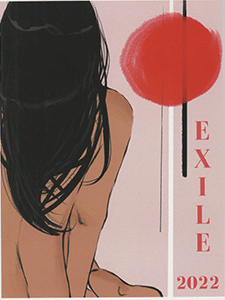 Editors-in-Chief
Kt Amrine
Lily Carroll
Cassidy Crane
Riley Halpern
William Kelsey
Poetry Editors
Cassidy Crane
Spencer Crawford
Riley Halpern
David Luffman
Ava Reischuck
Prose Editors
Kt Amrine
Lily Carroll
Jessica Crabtree
Malina Infante
Phoebe Martin
Anh Nguyen
Susannah Watson
Faculty Advisor
Peter Grandbois