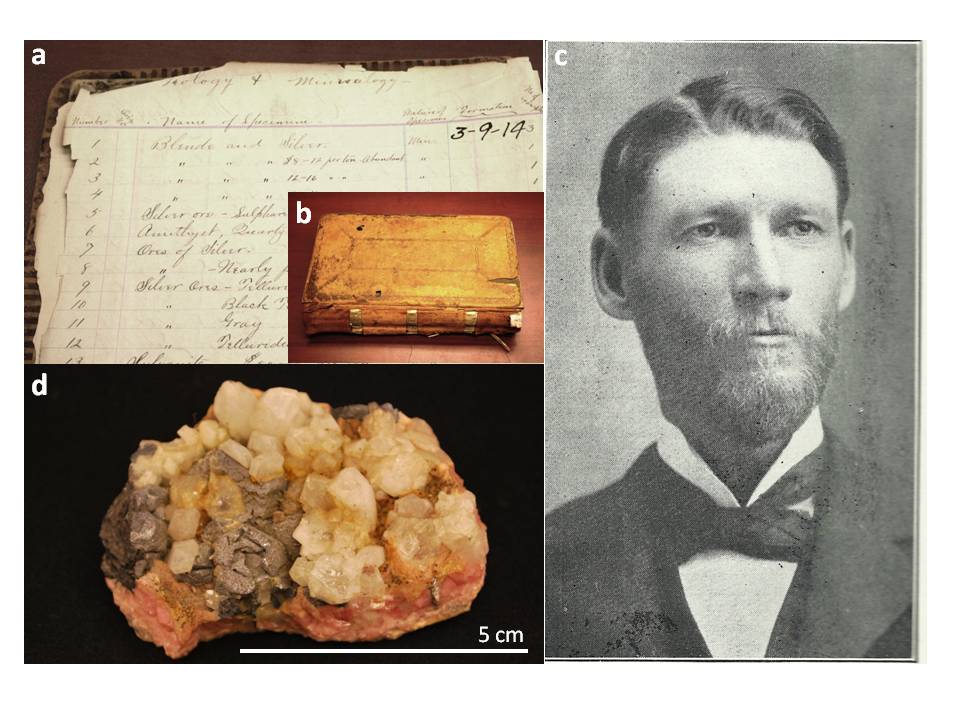 The Department of Geosciences at Denison University celebrated its 175th anniversary in 2011 (Mahard, 1979). Its long history is reflected in the mineral, rock and fossil collection that has been growing since the late 19th century. This virtual gallery is a sampling of the upward of 9,000 specimens from the Denison Geosciences Earth materials collection previously only cataloged in a manuscript book (Figure 1.a and b) started by Prof. Clarence L. Herrick (Figure 1.c) in the 1890s. The items in the collection are varied, from representative mineral samples (Figure 1.d - Galena, quartz, rhodochrosite), to rocks from important geologic locations. The collection is much more than a rockhound's dream, but rather an essential part of the teaching experience at the Department of Geosciences at Denison. It is used both as an example of important Earth materials, and as a source of research for students during the course of their Denison career.

This initial phase of the collection contains many of the minerals and rocks of the Geosciences collection and future work will add samples from the fossil collection as well. The collection is meant to showcase the panoply of Geology, displaying the Earth materials that make up the world around us in all their variety of form and feature. If you have any questions or comments about the collection, please contact the Department of Geosciences at denisongeos@gmail.com.


Printing is not supported at the primary Gallery Thumbnail page. Please first navigate to a specific Image before printing.